Carefree RV Awnings in Dallas, Fort Worth, & Burleson, TX
If you are looking for a hard-to-find part for your RV or just needing a replacement part please contact us at RV Outpost Supercenter. We will provide you RV parts or replacements from Carefree who offers world-class RV awnings.
Since 1971, Carefree has been specialized in the design and manufacture of RV awnings. Their awning knowledge and creativity are unrivaled. Carefree have awnings for nearly every type of RV imaginable and continue to set the bar for what an RV awning should be. Call us today at 817-697-7479  to know more about the brand with free estimates!
Types of Carefree RV Awnings Offered by RV Outpost
Carefree of Colorado has been designing a full product range of RV awnings to match your every need. There is not an RV out there today that you cannot outfit with an awning that matches both your unique needs and style. With various fabrics, fits, and functions available, at RV Outpost Supercenter, you'll find the perfect RV awning for your coach so that you can minimize your sun problems without compromising on style and luxury.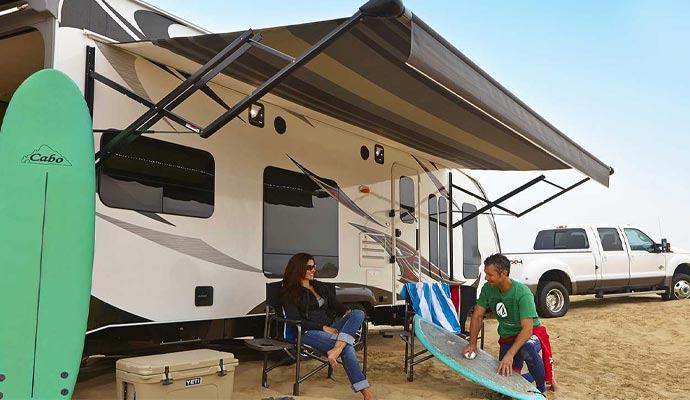 And much more!
Looking for a particular part? Give us a call to see if we have it in stock or can get it for you!
Benefits of Choosing Carefree RV Awnings from RV Outpost in Dallas, Fort Worth, & Burleson
Easiest to order.
Have the fastest turnaround.
Quality, value, performance, and style show through in everything we do.
Please contact us for the Carefree product information, product registration, and warranty information. You can also contact us online to book an appointment or call us today at 817-697-7479.