We Offer a Variety of RV Shades in DFW
With several types of shades for your RV, you can choose one that best fits your needs.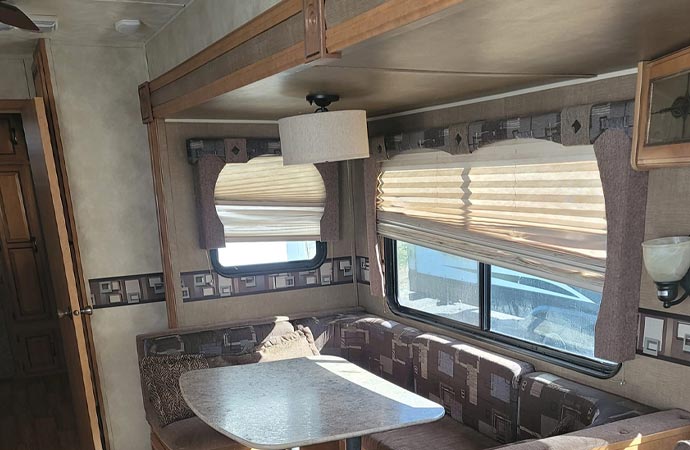 Solar or Day Shades: The materials solar shades are made of are heavier than other types of window shades. They can help reduce the heat by blocking a fair amount of sun through the window but cannot stop the cold. Additionally, solar shades allow you to see outside during the day, but people passing by won't be able to see in your RV.
Day-Night Combination Shades: While a solar or day shade does a good blocking sun during the day while allowing you to see through them, we dent offer privacy at night. This is where day/night combination shades come in. These shades offer both a solar day shade and a solid nightshade for blocking the view into the RV.
Roller Shades: This type of RV window shade is ideal for privacy. Roller shades also provide insulation and light control. When choosing a rolling shade, consider four factors: weave and construction, color, the mounting position of the shades, and the openness factor.
Pleated Shades: A pleated shade doesn't have slats. They have just one layer of fabric that's typically very sheer. The fabric is folded in pleats so that it can fold up in an accordion shape when retracted. This type of shade can give you privacy while providing a clean look to the interior of your RV.
Fabric Blinds: Fabric blinds for your RV can offer privacy and solar protection while remaining stylish. Usually, fabric blinds are made custom for an RV to match the decor.
Cellular Shades: Cellular shades are like pleated shades but offer two pieces of fabric instead of one. They can help keep your interior safe from excess heat and cold by offering some insulation.
Looking for a particular part? Give us a call to see if we have it in stock or can get it for you!