AC Repair for RVs in Dallas-Fort Worth, Texas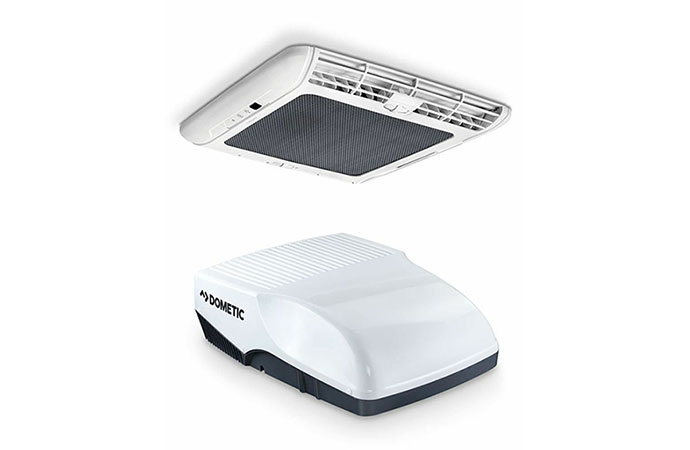 Repairing the air conditioning unit of your RV is a challenging task. Unlike the AC unit in a car, which is located beneath the hood and powered by your engine, the air conditioning system for your RV is typically located in the ceiling of your coach. Attached to mounting bolts, most AC units for an RV must fit within a 14" x 14" space. Units can either be ducted or non-ducted, but the repair job requires an expert.
The certified technicians from RV Outpost Supercenter have the equipment, experience & expertise to handle those issues, as well as heating repairs, plumbing repairs, electrical repairs, routine maintenance and much more. For years, we have set the industry standard when it comes to quality AC repairs for RV owners in Burleson, Dallas, Fort Worth, Arlington and throughout the DFW areas. You can trust our crews to keep you cool during those long road trips on hot summer days.
Thermostat, Condenser & Other AC Repairs by RV Outpost in DFW
Repairing the AC system of an RV is far more difficult than fixing the AC on any other type of vehicle. Because your RV is asked to cool areas that are not included in other passenger vehicles, its AC system contains far more parts & potential problems than a typical AC unit for a car or truck. That is why you should trust the AC experts from RV Outpost Supercenter. Our crews understand all the ins and outs of your RV's unique AC/cooling unit. We can fix AC-related issues on your RV that include:
Thermostat
Thermostat Relay
Blower Motor
Blower Motor Condenser
Run Capacitor
Freeze Control Sensor
Igniter electrode
Heating/cooling register
Floor register with damper
Duct covers
Insect screens
And much, much more!
Count on RV Outpost for the Best AC Repairs for RVs in DFW
No one wants it to happen, especially on a hot day, but at some point it does: the AC stops working on your RV. When you are faced with that dilemma, it requires your immediate attention. Fortunately, the AC experts from RV Outpost can cool you off with AC repairs and get you back on the road ASAP. To schedule an appointment or learn more about our services, contact us online or give us a call at 817-697-7479.