RV Maintenance in Burleson, Dallas & Fort Worth, TX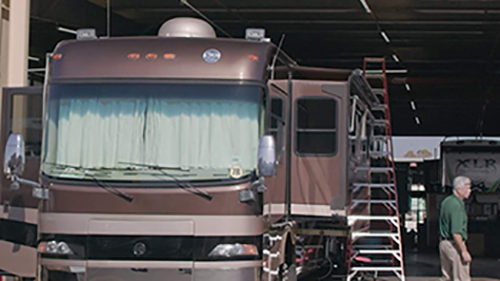 The most enjoyable RVs on the road are the ones that take you from Pont A to Point B and back again without breaking down. In the RV world, the best "ability" is reliability. That requires keeping all aspects of your RV properly maintained when you are not driving it. Proper maintenance, in this case, means far more than a properly-tuned engine.
Our certified technicians from RV Outpost Supercenter understand this and will keep your vehicle ready to roll at a moment's notice on a year-round basis. It is important to remember that regular RV maintenance requires paying attention to the electrical system, heater, air conditioner, and plumbing system in addition to the engine. By following this approach, customers in Dallas, Fort Worth, Burleson, Arlington and throughout DFW will save money tomorrow on repairs while enjoying peace of mind today.
Year-Round RV Maintenance in Burleson & DFW by RV Outpost
Avoid having your RV break down hundreds of miles from home because of an ill-timed mechanical repair, flat tire or dead battery. Consistent safety checks ensure that everything is in good working order before you hit the road. Here are some popular RV maintenance services we provide to customers at RV Outpost Supercenter:
Oil & Filter Change
Chassis Lube
Inspect Belts & Hoses
Inspect Fuel & Air Filters
Inspect Brakes
Check & Adjust Fluid Levels
Check & Adjust Tire Pressure
Check Batteries
Rotate Tires (As Needed)
Radiator & Coolant Check
Trust RV Outpost Supercenter to Maintain Your RV in Dallas & Fort Worth, TX
Timely maintenance today can avoid untimely RV breakdowns and major repairs tomorrow. The service experts at RV Outpost Supercenter know what it takes to get your RV into peak condition and keep it there for your next trip. Customers in Mansfield, Crowley, Burleson, Fort Worth and elsewhere in the DFW area can learn more about our services or make an appointment by giving us a call at 817-697-7479 or by contacting us online.